How to cast a divorce curse safely
28.03.2016
Esoteric, astrologer, writer
A question from a reader's comment:
I really want to order a divorce curse from you
I will tell you why I need a divorce curse in a separate letter that I'm going to email you. I don't want to waste your time and in the meantime I'd like to ask you this: will I be punished for using a divorce curse? I don't want to get hurt. At the same time, I'm not going to refuse to get revenge on the man who has lied to me.

Spellcaster Maxim's reply:
I can guarantee your safety only if you work with me. I cast only safe spells and never cast spells if there is even a small chance that my client or someone else may get hurt. Luckily, I have all magic tools needed to find out the outcome and consequences of my magic spells.
If you choose to work with another spellcaster, I cannot guarantee you anything. I cannot make you choose me, either. It is up to you to decide whom to work with – me, knowing that I will ensure your safety, or take risks and work with someone else who may offer you a lower price but is not responsible for your safety.
A question from a reader's comment:
I tried to order a divorce curse from a witch
But she said, after telling my fortune (by the way, she did so without asking me), that the one I wanted to curse was protected with a "magic shield" which made it impossible to curse this person.

Spellcaster Maxim's reply:
That witch is either mistaken or lacks experience to provide quality magic services. A divorce curse can be cast on anyone, provided this person is married at the moment the ritual is performed. Any magic shield can be broken or a ritual can be performed that does not belong to the branch of magic this shield protects from.
The point is if this magic shield is the only thing that stops you, contact me any time and I will tell you how I can help you.
A question from a reader's comment:
Why is everything on the Internet related to divorce curses so expensive?
Spellcaster Maxim's reply:
Because spellcasters know how difficult it is to cast divorce curses. To begin with, the spellcaster should influence not one but two people simultaneously, the husband and wife, because, as you understand, people cannot get divorced if either party does not want it. Secondly, the spellcaster has to influence the consciousness of the spouses to ensure that they not only fall out of love with each other but also want a divorce. After that, the spellcaster needs to perform a number of rituals to ensure that these people never find out the truth about the divorce curse and prevent other spellcasters from breaking the curse even if they do.
Casting a divorce curse on someone is not enough for many clients. They also ask the spellcaster to unite them with this person after he or she gets a divorced. This means that the spellcaster needs to perform more rituals which cannot be done for free. Hence the relatively high price for divorce spells.
A question from a reader's comment:
Is it possible to cast a divorce curse ensuring that no one will ever find out about it?
The woman I want to curse uses fortune-telling Tarot cards. I'm afraid she might see that she's cursed and have a sorcerer or witch remove this curse from her.
Spellcaster Maxim's reply: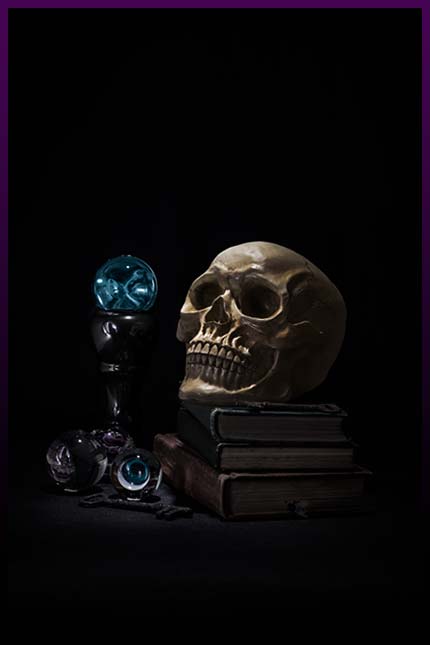 As I have already said, there are curses which can be removed only by the one who initially cast them. This means the curse will not be removed if you do not want it to. Speaking of the Tarot, after I perform my rituals, no fortune-telling technique will be able to identify any traces of magic in the victim's subtle bodies, meaning that woman will never find out she is cursed, even with her fortune-telling cards.
A question from a reader's comment:
I don't understand one thing: if curses exist, why do businessmen and Mafiosi hire killers to eliminate their competitors but not spellcasters?
Spellcaster Maxim's reply:
And I do not understand what makes you think they do not hire spellscasters to eliminate their competitors! In brief, members of the British Royal Family, several American presidents, numerous politicians from Eastern Europe… these are some of those who have fallen victim to divorce curses over the past 20 years. If you study the history of adultery and divorce in presidential and royal families, you will understand how much truth there is in what I say.
In addition, any serious politician, and especially state leaders, has a powerful sorcerer or witch protecting them from magic. Naturally, this is not something they discuss in public. However, their political career would not have been as successful if it were not for those witches or sorcerers.
A question from a reader's comment:
Can a divorce spell be cast on a person who doesn't speak English?
Spellcaster Maxim's reply:
In magic, it does not matter what language you speak. To begin with, many spells are not in English. The majority of traditional rituals are performed in Latin, while voodoo rituals are usually performed in one of the languages of African tribes. Shaman or druidic rituals may also require you to speak rather peculiar languages.
The point is you should not worry about the native language of the object of magic if you let me take сare of it.
Can I order a divorce curse from you?
Spellcaster Maxim's reply:
I can answer this question only after you describe your problem telling me what made you want to use a divorce curse and, secondly, after I examine your karma and that of the person who you want to have cursed.

| | | | | | |
| --- | --- | --- | --- | --- | --- |
| | | | | | (votes: 39, rating: 4.62) |