How to Remove the Evil Eye Curse
Esoteric, astrologer, writer
Time: Saturday, new or waning moon.
Candles: black candle with seven wicks and seven ritual candles of the following colors: turquoise, silver or grey, red-blue and violet.
Incense: cedar.
Crystals: black onyx, black obsidian, sardonyx, and a transparent crystal of quartz.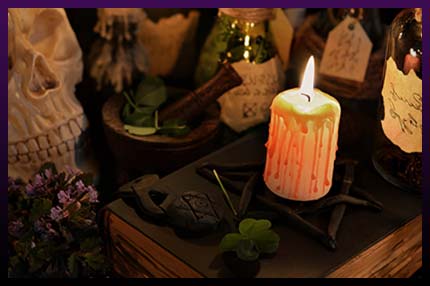 Oil: patchouli.
Other: your photograph or that of the person who has been put a curse or the evil eye on.
Spell to Remove the Evil Eye Curse:
I call on all good forces of my guardian angels and higher forces to merge with this negative energy, and send it back to where it came from. Destroy it and drive it away. I want to be pure, free and protected from the evil all my life. A white aureole is falling down on me, helping me with my liberation from evil forces.
Ritual to Remove the Evil Eye Curse:
Light two altar candles, put some incense in between and light it, too. Oil the seven-wick candle from the bottom to the wicks. Put the photograph and the black candle at the center of the altar and light it. Put the crystals near the candle or on the photograph. Oil each candle from the wick to the bottom and put them in front of the black candle in a line from left to right.
Light the candles. Say the spell to remove the evil eye curse. If you are holding a ritual for another person, instead of the pronoun "I" use the name of the person cursed. Let the colorful candles burn down and blow out the black candle after one of its wicks burns down.
Repeat the evil eye curse removal spell for another six days, preferably at midnight.
If you have troubles doing it, contact me. My evil eye curse removal services can be found in the Black Magic section.

| | | | | | |
| --- | --- | --- | --- | --- | --- |
| | | | | | (votes: 47, rating: 4.58) |