Magic lessons: Casting tarot spells
05.08.2016
Esoteric, astrologer, writer
I, spellcaster Maxim, could post numerous articles about tarot spells, each about some tarot love spell or money spells. Instead, I want to uncover the algorithm for creating a spell tarot to help you achieve any goal you have. This will enable you to create your own tarot spells whenever you need to solve any problems you have.
Algorithm casting love spells tarot
To begin with, no tarot love spell can be implemented without a tarot deck. To "accustom" a tarot deck to yourself – connect it to your energies – you need to use it for 1-2 years for fortune-telling, study the meaning of each card and spread, and constantly make contact with the cards.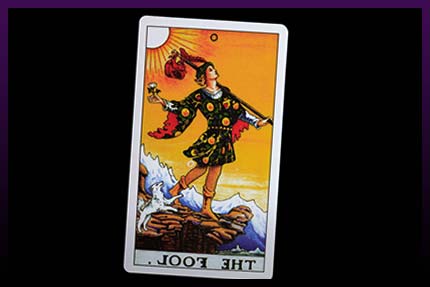 Also, you need an altar. You can use any table or bookshelf as your altar. For more information about altars and how to make them, see a corresponding article posted on my website. In the meantime, I would like to tell you about such important tarot magic accessory as candles.
To cast tarot spells, use white candles. Black candles should be used to cast some dark spell tarot. If you need to influence someone's mental body, use blue or purple candles. Love tarot spells require red and green candles. Light blue candles should be used to treat mental disorders, while silver and golden candles are used to develop mystical and clairvoyant abilities.
To cast a tarot love spell or perform any other tarot ritual, pull one of the major arcana or ace describing what you want to happen to you. I will tell you later what card to choose based on what spell tarot you need to cast. In the meantime, I need you to remember this: pull a card, support it at the burning candle, and say the spell out loud with your eyes fixed on the card.
Put the card into a case. Take it out twice a day, in the morning and in the evening, and look at it thinking about your wish.
Cards used in tarot spells have the following meaning:
Ace of WANDS. Use it to cast a tarot love spell to improve your love life or achieve success in your career or business. This card is great for people who enjoy hard work and creation, who never get tired of designing something new.


Ace of PENTACLES. The card of money, it is used to attract wealth, repay debts, get an inheritance, or win a lottery.
Ace of SWORDS. Symbolizes victory, triumph, strength, confidence, firmness, and ability to overcome challenges . With this card, you can get rid of your enemies, stagnation, vices, fears, and self-doubt.


Ace of CUPS. This card symbolizes not only love but also joy and festivities. Use it to attract happiness due to fulfilled dreams. Do not cast a spell tarot using this card when you are sad or depressed.


THE JESTER. The beginning of something new. Sudden

luck

.

New

experiences

.

Overcoming

boredom

.
THE WIZARD.

Help

from

the

outside

.

Strong

willpower

.

Improved

sexual

energies

.

Winning

conflicts

.
THE HIGH PRIESTESS.

Harmony, perfection, beauty, understanding. Helps win arguments, improves relationships.

THE EMPRESS. Love, marital happiness, financial stability, slow but continuous growth.
THE EMPEROR. Powers, mind, authority. The Higher Powers' mercy. Leadership and wisdom. Cast tarot spells using this card if you count only on yourself.


THE HIGH PRIEST. Search for a true mission, deeper meaning of life and grand purposes. A reward for passing the tests of life.
THE LOVERS. Solution of all problems. Helps make the right choices. Life-changing choices. Conception and new feelings.
THE CHARIOT. Symbolizes career, new
THE JUSTICE. Mental field restoration.
THE HERMIT. Getting rid of unwanted connections. Success in leaning, meditation and finding out the truth.
THE WHEEL OF FORTUNE. Restarting karma with an opportunity to start all over.
THE STRENGTH.

Power

,

majesty

.

Disgracing

enemies

.

Inspiration

.

Achievements

and

valor.

THE HANGED MAN. Finding a way out of a deadlock, end of stagnation.
THE DEATH. Changes and transition, rebirth and revival. Parting with what is gone.
THE TEMPERANCE.

Creativity

.

Peace

of

mind

.

Suppression of passions. Getting rid of vices.

THE DEVIL. This card is used to create relationships based on sex. Cursed people should not use this card in their tarot spells.
THE TOWER. Use it in a tarot love spell to destroy your previous relationship, provided you are ready to rebuild your fate from ruins. Helps people who do not know what to do with their lives.


THE STAR. The card of artists, fortune-tellers, psychics, and people with extrasensory perception.
THE MOON. Helps in tarot love spells after which love, meeting, passion or marriage become reality.
THE SUN. Happiness, love, total success. The life of a person who chose spiritual values over material ones.
THE COURT. With this card, tarot spells can help you get back your health, strength, youth and confidence.
THE WORLD.

True

fate

.

Clean

karma

.

Honesty

and

sincerity

.

Love

.

Good

news

.

A life-changing offer.
A spell tarot is cast according to the following procedure: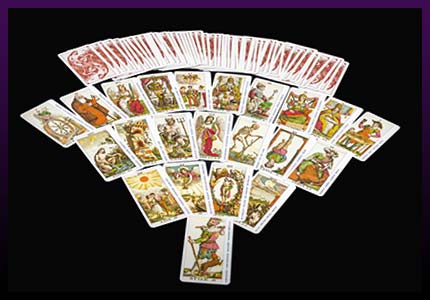 1. Talk to the Higher Powers feeling confident that they will both hear you and help you. Thank them for helping you before and for their future help.
2. Voice your request. If you want to find love, saying "Please, give me love!" is not enough. Describe the person you want to date and eventually marry (faithful, caring, loving, kind, etc.)
3. Say what you want them to protect you from. Ask them to ensure that mean and envious people, dark forces and unforeseen circumstances, your own foolishness or karma do not stand in the way of your dream.
I, spellcaster Maxim, suggest you write down your spell tarot before casting it. In case something goes wrong, you will not get a chance to cast it again until after the end of the lunar month. It is easy to understand whether you succeeded or failed. Listen to your feelings. Disappointment, devastation, sadness and depression mean failure. Happiness, joy and feeling confident that everything is going to be great mean success and fulfillment of your dream.
Contact me after three unsuccessful attempts to cast a tarot spell. I will cast it for you and make your dream come true. As I have already said, magic can make any dreams you have come true as it can influence any aspect of your life.

| | | | | | |
| --- | --- | --- | --- | --- | --- |
| | | | | | (votes: 40, rating: 4.63) |