Spells to separate lovers and types of relationships
15.07.2016
Esoteric, astrologer, writer
Below are some of the most frequently asked questions:
1. Which spells to separate lovers are the strongest?
2. Which spell to separate lovers brings results faster?
3. Why does the same spell to separate two lovers influence people differently?
4. Why do spells to separate lovers bring amazing results when cast on some people but prove useless when cast on others?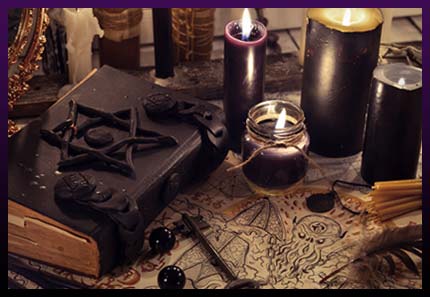 I, spellcaster Maxim, have told you multiple times that the effect of a spell to separate lovers and how long it lasts depends on how powerful and responsible the spellcaster is, as well as how seriously he takes his work. What I did not say is that the same spell to separate two lovers cast by the same spellcaster can have different effects. There is one important variable missing in this "time and power" formula, that is the type of the relationship the spell to separate lovers is used against.
Each relationship is unique which is why spells to break a relationship influence them differently. Those claiming otherwise are liars. Unfortunately, today about 90% of people offering magic or witchcraft services online are frauds.
Let us get back to discussing relationships between people and find out why spells to separate lovers influence them differently.
A MAN AND WOMAN LOVE EACH OTHER AND WANT TO SPEND THEIR LIVES TOGETHER – in this case a spell to separate two lovers should be cast based on the following procedure:
Separate their energies which have joined together as one;
Kill love in each one's heart;
Split them;
Eliminate their chance to reunite in the future.
Even though this may take you up to a few months, following this procedure will guarantee that the people you separate will never be together again.
ONE PARTNER LOVES THE OTHER, BUT THE LATTER DOES NOT LOVE HIM OR HER BACK – in this case you need to do half the work described above because you need to influence just one partner. Naturally, this should take you less time.
THE PARTNERS DO NOT LOVE EACH OTHER – in this case you can cast some simple and fast spells to separate lovers to make them break up and never talk to each other again.
ONE PARTNER PRETENDS TO BE IN LOVE WITH THE OTHER FOR MONEY – this relationship is the most difficult to break because a person pretending to be in love with another person for money can put up with many things, including humiliation, rudeness and contempt. In this case I, spellcaster Maxim, prefer to influence the one who has feelings for the other. With some of my powerful spells, I ensure that the loving partner gets disappointed in the mercantile one or falls in love with someone else.
Let us discuss a RELATIONSHIP BETWEEN A MARRIED MAN AND HIS LOVER BASED ON SEX (THE LOVER GIVES THE MAN WHAT HIS WIFE DOES NOT). In this case a spell to separate lovers can be cast and the man and his lover will break up. However, this will not eliminate the cause of the husband's adultery. Sooner or later, the man will find another lover, then a third and a fourth one… If you put spells to separate lovers on him too often, you may drive him mad, make him impotent, or cause him to commit suicide. Besides, to save her marriage, the wife will need to order a spell to separate two lovers over and over again which is very expensive.
In that case, I suggest you do not use a spell to separate lovers at all but order a different spell from me. I can enhance the wife's sexual energies to ensure that her husband will find her too good in bed to cheat on her with a lover.
By the way, I can cast a spell to separate two lovers on same-sex couples
Everything that I have said about "man - woman" couples is also true for "man – man" or "woman – woman" couples. If you want to end a relationship between two gays or lesbians, I will be happy to cast a spell to separate lovers on them.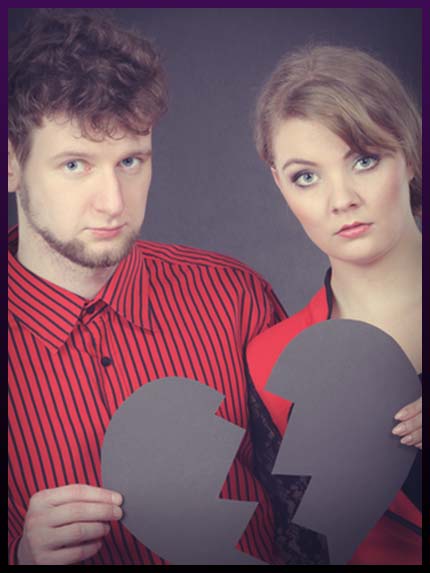 Being a powerful spellcaster, I can help you solve any problem you have, except those related to the Higher Powers. However, even if a relationship is protected from magic, it can still be ended by making the partners go through some ordeals, such as poverty, stress, failures or jealousy. If the people are destined to be together, they will not break up because of it. Otherwise, they will. The Higher Powers will not interfere because the spellcaster, while casting his spells to separate lovers, let the people choose – hold on to each other, support each other and do not pay attention to their problems, or accuse each other of all their failures and hardships and thus push each other away.
There are also relationships created with magic. If one partner attracted the other with a love spell, it is hard to say when a spell to separate two lovers will bring results, how it should be cast and which magic accessories should be used. It means it is impossible to say how much it will be without studying the situation in detail.
Magic varies. If a love spell was cast by an amateur, it is very easy to break. If it was cast by a professional witch or sorcerer, the spell needs to be removed without starting a war with the spellcaster.
The problem is in this case casting spells to separate lovers alone is not enough
The spellcaster needs to also restore the subtle bodies and energies of the one influenced with magic. Thus, this person may have ruptures in his protection shield, malfunctioning chakras, or some energy entity or mind parasite occupying one of his subtle bodies which needs to be removed.
Magic can be used to protect relationships. Thus, one of the partners may have had a witch perform a special ritual to protect their relationship. In that case, a very powerful spell to separate lovers will be needed. Perhaps, the spellcaster will have to cast it several times to get the results meeting the client's expectations.
In conclusion, I would like to repeat:
I practice safe magic. By working with me, you may rest assured you will not have to face any negative consequences, no matter what rituals I perform to solve your problems and how complex and dangerous they are. My spells to separate two lovers are not an exception, meaning my rituals will not cause you to suffer from illnesses and loss of energy or experience other negative emotions.

| | | | | | |
| --- | --- | --- | --- | --- | --- |
| | | | | | (votes: 39, rating: 4.62) |