LOVE SPELL CAST BY PUTTING A CHARM TO EXCITE LOVE ON AN OBJECT
Esoteric, astrologer, writer
Sometimes, simple love spells prove to be ineffective, as love magic in the hands of an amateur has little effect. An ideal solution for beginning spell casters who can't cast love spells professionally is a love spell cast by putting a charm to excite love on an object. The spell caster influences the man not directly but through an object which has been put a charm to excite love on. It's better to put charms to excite love on objects people use every day, such as glasses, watches, combs, wallets, etc.
There're many ways how to cast a love spell by putting a charm to excite love on an object.
Complex magical rituals can be used as well. I will describe several ways how to cast a love spell by putting a charm to excite love on an object starting from the simplest one.
To put a charm to excite love on an object, you will need something your beloved one cares about. Make him think it's been lost. Three days later, prepare the place for casting the love spell. Draw a pentagram on a round table with a piece of wax chalk. Put a cup of water and a thick wax candle in the center of the pentagram. Put the photograph of your beloved one near it. To cast this love spell, wait for the night. Light the candle and put the photograph under the cup. Run the object over the candle fire seven times, saying, "The fire cleans, the wax collects!" After that, drop seven drops of the melted wax into the cup. Pick the lumps of wax and hide them. Leave the photo in the center of the table and put the object on it. Repeat seven times, "As this object is dear to you, so will be I." Don't touch the photo or the object until sunrise. The following day, let your beloved one find the object. If he continues using it, the love spell cast by putting a charm to excite love on an object has worked.
You can borrow some money from your beloved one and put a charm to excite love on it. You should pay your debt using the same notes. The spell is said at night,
"I use this money to buy what can't be bought or sold. Let God's servant (name) who gave me this money give me his heart upon receiving the money back. Let him have no rest until he marries me. Let the money burn his pockets until he puts a wedding ring on my finger. Let him never be happy with a woman until he kisses my lips on the altar. Amen."
There's a special love spell cast by putting a charm to excite love on glasses.
It appeared not long ago but is as effective as old love spells. It can be cast any time of the day (preferably repeat it several times),
"Your eyes don't see, don't notice others. You belong to me. I'm the only one who looks beautiful to you, God's servant (name). My image is the only one God's servant (name) can remember!"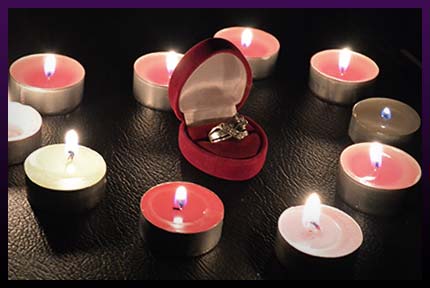 A love spell cast by putting a charm to excite love on an object must not be cast during menstruation. It is the only rule to be observed if you plan to cast this love spell. Besides, make sure you can lie to your beloved one. Otherwise, you won't be able to get the objects necessary for the ritual. If the victim of the love spell finds out that you've taken the object, the love spell will bring you nothing but disappointment. But don't lose heart if something goes wrong. Contact me to receive my professional magical help.
To cast most of the spells described in this article, you are going to need one of the gris-gris bags which can be found at my esoteric store. I strongly suggest that you do not try to find a cheaper option. To my regret, the majority of online magic stores do not offer authentic magic products. Their products just have the appearance of real magic products but they do not have the required energies. I hope I do not have to explain to you that effective gris-gris bags should me manufactured and charged on specific days.
It is very easy to work with my gris-gris bags. Put the objects and biomaterial required for the ritual and cast your spell. For more information about gris-gris bags, please read my articles about them.
Gris-gris bags have been popular lately and are offered by multiple magic stores. It is quite difficult to determine if a gris-gris bag is authentic or not without buying and using it. Moreover, a lot of people do not even know how to do it. Luckily, today I am going to open the vail over this mystery and teach you how to check the quality of gris-gris bags. To this end, please watch the video below.

| | | | | | |
| --- | --- | --- | --- | --- | --- |
| | | | | | (votes: 63, rating: 4.73) |