Love potions spells – "Potions and Spells"
04.04.2017
Esoteric, astrologer, writer
From a reader's letter:
"It's clear about the rituals. Despite the fact that there are lots of them on the Internet, they can be performed successfully only by an experienced spellcaster. It's like uploading a brain surgery video on YouTube and expecting users to start performing such surgeries at home. So I don't worry about it.
As for the availability of potions and spells, it's different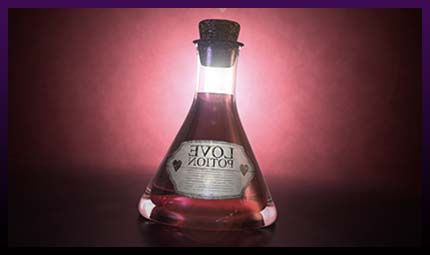 A user can go to some website offering love spells and potions and use any of them. It's like a weapon you can use having no special skills. One just needs to come closer and pull the trigger…"
Spellcaster Maxim's reply:
I understand why you are worried. You are right about the websites offering various potions and spells. However, let me reassure you because the majority of such products are useless. Love potions spells may have beautiful names and be very expensive, and completely dominate Google's first page, but still be useless.
According to one of my colleagues, only 3 out of 100 spellcasters are professional magic practitioners. As for magic accessories, it is even worse. The current market of magic accessories is the market of souvenirs and pseudomagic products, so these potions and spells are no threat.
From a reader's letter:
"What do I need to make authentic love potions spells?"
Spellcaster Maxim's reply:
You need a lot of different things. First and foremost, you need to study for about 15 years. Even when you make cupcakes at home, you cannot guarantee they will be of good quality despite having a detailed recipe, the right ingredients, and a good oven. It only looks simple – mix the ingredients, pour the batter into cupcake trays, and bake. However, confectionary competitions held worldwide prove that even the most skilled chefs may fail. Otherwise, there would be no need to hold such competitions and everyone would be a winner.
As for potions and spells, they are far more complex than cake baking. Imagine that in order to make cupcakes, you need to:
work the land;
plant the seeds;
harvest the wheat and pick up grapes to make raisins;
grow a vanilla tree and actually make some vanilla (it takes about six months);
open a chicken farm and wait for the first eggs;
learn how to make

baking

powder (study chemistry and build a lab);
These are just some of the steps required to bake cupcakes.
When it comes to love spells and potions, the same approach needs to be applied. The spellcaster grows, crops and prepares the required ingredients by himself. He makes charms and candles by himself, too. It is a lot of work. Besides, he directs the energies in the right way to make his love potions spells truly powerful. On top of that, there are only a few days in a year when potions can be made.
When clients ask me for a love potion, they almost always get it, even though I do not offer potions as independent products, and I will explain why later. When you buy your potion today, you do not know that I started making it several years ago when the first seed was planted.
Given that I studied magic for a long time before I started making potions and spells, one could say I started making my love spells and potions more than 20 years ago.
From a reader's letter:
Why don't you offer love potions spells as independent products?
Why do your clients have to order your potions and spells?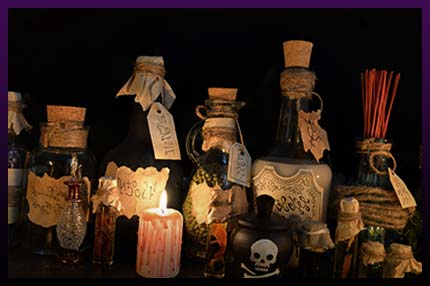 Spellcaster Maxim's reply:
Because potions do not work like that. A potion is useless as it is. It works only if used together with love spells and potions can influence a person only if the person has been prepared for it in advance. Therefore, my clients get their potions only after I perform the required rituals. This is when I also teach my clients how and when to use their potions.
Do not try to make me change my mind or bribe me. That is the way I work and I am not going to change it. The quality of the services I provide is far more important to me than money. Therefore, you either agree with my terms and order both potions and spells, or find another spellcaster to work with. However, that way I cannot guarantee you that your wish will be fulfilled at all.
From a reader's letter:
As I understand, love potions spells are like powerful drugs or poison. Thus, snake venom is deadly when it gets into the bloodstream, but at the same time it is used as an ingredient in creams for the treatment of joint pain. The same is true for drugs – they can both heal and kill. But that is not the point. And that is not what I am scared of.
When you read a leaflet for some drug product, the first thing you see is a long list of counter-indications and side effects. Note that drugs are tested on thousands of people (to make them as safe as possible) before being released to the market. As for spellcasters, they do not test their potions on anyone. They just use some old recipes to make their potions focusing on their efficacy. Side-effects are one of the last things they worry about.
From a reader's letter:
"I'm asking you this question because I found a love potion recipe on the Internet and one of the ingredients is belladonna. As you know, small doses of belladonna affect the brain function, while large doses may even kill. Another recipe that I found required mistletoe which is also toxic.
So is it safe at all to use love potions?"
Spellcaster Maxim's reply:
This is why I keep saying that doing magic requires skills. A true spellcaster studies botany, homeopathy, chemistry and pharmacology for dozens of years before they make their first potion. They know the properties of each ingredient they use, so their potions and elixirs are 100% safe, even if administered in large doses.
Unfortunately, there are those who post recipes of love spells and potions without being a professional magic practitioner. They do it for money. 98% of magic-related websites are designed to trick users of their money. The Internet is flooded not only with incorrect but also with dangerous information. So let me warn you once again against practicing magic by yourself. Do not do it! And do not make any elixirs by yourself, either.
The only way to use a love potion in a safe manner is to work with a professional spellcaster like myself. That way, you will take advantage of a powerful and safe tool to arouse love in men and women.
From a reader's letter:
"Can I use one elixir on two men?"
Spellcaster Maxim's reply:
Of course not! If your love potions spells are made by a professional spellcaster, they are adjusted to influence only one specific man. They will not be able to influence other men. Moreover, they may harm them. If you want to put a love spell on two men, use two elixirs.
However, that is still a bad idea. Two elixirs will produce two influences which may neutralize each other. As a result, both will prove useless. Buy a charm instead to attract the opposite sex in general. I offer a wide range of such magic accessories so I am sure you will find what you need fast.

| | | | | | |
| --- | --- | --- | --- | --- | --- |
| | | | | | (votes: 43, rating: 4.65) |