A spell to reveal your true love – The best rituals
12.09.2018
Esoteric, astrologer, writer
Casting a spell to reveal your true love using milk

Never cast love spells if you are angry or disappointed. Negative energy cannot feed love. Jealousy, suspiciousness, dishonesty, infidelity, and lies destroy it. If you want to cast spells for yourself at home, you need to have a special mindset. Without it, you are likely to fail. Thus, a woman with the right mindset can cast a simple spell to reveal your true love on a guy successfully simply by saying the text of the spell. At the same time, her neighbor living in the apartment next door can perform a very complex ritual, after making all necessary preparations taking her a few weeks, as well as spending hundreds of dollars, and fail.

If your heart is sore and heavy when you try to cast a spell, you create a wall standing in the way of your spell. No one has to interfere to stop your energy flow because you are doing it yourself. Try to do the following thing. Add a few drops of blue or pink paint into pure water and you will get something beautiful. But if you add some black or brown paint, your sky blue water or petal-like patterns will turn into someone unpleasantly dark reddish. Moreover, no matter what paint you add after that, it will not be as good as before.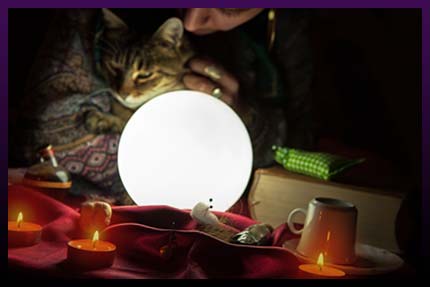 The same thing happens to your energies. No matter how pure they are initially, a single drop of negativity will have a lasting effect on them making your energies repulsive. No one wants to deal with repulsive energies, including the person you love. He will push your energies away along with your spell. For this reason it is very important for beginning magic practitioners to know how to develop the right, positive mindset. If you cannot do it yet but want to cast a spell to reveal your true love, wait until you develop the right mindset naturally and perform your ritual.
Now let us talk about the spell. Take a glass of fresh milk. If possible, use raw milk from a farm. Put the glass in front of yourself and light a yellow candle behind it. Bend it so the candle flame was over the milk. When drops of wax start to fall into the glass, say the following spell three times,
"It is not fetters or chains that I am casting. A key will be born from pure wax in the milk. With this key, I will open your (your loved one's name) heart to put my love inside without you knowing. Let it happen as I said. The key cannot be broken. I cannot lose you. We will be a couple today, a week from now, when the moon is full, forever! Amen!"
Straighten the candle and let the wax harden. Take it out and without shaking the milk off take it to the house of your loved one. Leave the wax at his threshold and walk away. The spell has already started influencing the person you love.
A spell to meet your soulmate
People who have been looking for true love but unsuccessfully, can use a ritual called a spell to meet your soulmate. It is cast early in the morning. As soon as you wake up, look into the mirror. If the weather is good, say the following spell,
"Today is the day when my life will change. I do not know your name, but we will surely meet today. You will be not the one I have always dreamed of, but better. You will be the first to come up and start a conversation. We will not go separate ways after we meet but go together hand in hand. There is faith in me, there is strength in me, there is love in me I can share to make my words come true!"
After that, get up and do your usual morning routine. If you repeat the spell over and over again, it will get stronger and eventually you will meet the love of your life.
But remember that not all single people can cast a spell to meet your soulmate. People can be single for different reasons. People who should not cast this spell for themselves and need to have a professional magic practitioner to do it, are:
- Those who are single and it is their fault;
- Women who had an abortion;
- Men who made their girlfriends/wives have an abortion;
- Those who have been single for more than one year;
- Those who abandoned their children;
- Those who feel lonely despite being married;
- Cursed people and people under the influence of a celibacy wreath.***
*** - Information about self-examination in order to detect energy diseases can be found in other articles available on my website "Spellcaster Maxim".
Finding love spells that work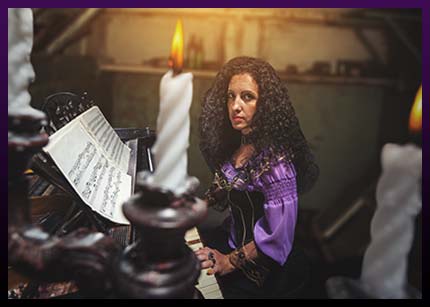 When I was a beginning spellcaster, which was more than 25 years ago, the hardest part was finding love spells that work. It was pretty easy for me to prepare for a spell and cast it, if the right preparations had been made. However, it was difficult to make spells work the way I wanted them to work – this can be an unsolvable problem for many beginning spellcasters.
When you look for spells on the Internet, you basically put your hand inside a drum with lottery tickets and pull out just one ticket. You never know if you will win or lose. It is like you never know what toy you will find in your chocolate egg and if you will find any at all.
This is also true for magic spells. When you think something like, "I want to cast a spell to bring love into my life", you cannot know for sure if the spell will work. I realized it when I created a website and started receiving letters from my readers. Many people told me about spells with unexpected results. For this reason I, spellcaster Maxim, realized I needed to add a service called "helping people who suffered of doing self-magic" encompassing energy, karma and fate restoration services. Besides, after careful consideration, I started posting information simple but effective love spells to ensure that my readers would not hurt themselves by doing magic.
Beginning sorcerers and witches are like children. That is true. And children need to always be under the supervision of their parents who make sure they are safe. Similarly, beginning magic practitioners need to be under my supervision.
Those interested in finding love spells that work should remember that I do not hold online classes and do not tell people how to cast a simple spell to attract love on Skype. However, I run a professional website about magic. Thus, to be under my supervision means:
- Using only the spells approved by me;
- Casting spells following my instructions;
- Learning how to control your personal energies and the energies of the world;
- Observing the rules and guidelines specified on my website.
People often ask me why I do not have any apprentices. First of all, I am a magic practitioner and providing magic services is more important to me than being a teacher and a mentor. Secondly, I believe every spellcaster should rely completely on themselves, be their own teachers and examiners. Thirdly, my websites contains so much information about practicing magic that no teacher is needed. Plus there is a book that I wrote (it is available on my website, too), so if you are looking for a mentor, you have already found it. You just need to get used to the fact that the process of studying magic will be different from what you expected.
You can start right now or read this article about a spell to bring love into my life. -
Spell to bring love into my life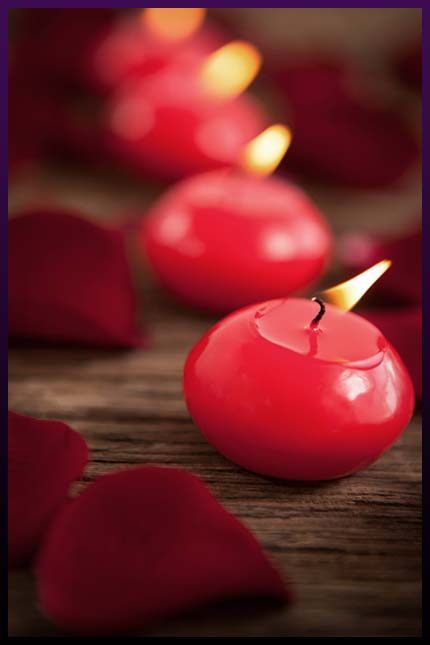 This spell is cast for a few months. To begin with, you need to boost your energies. To this end, you need to abstain from certain types of food for two weeks (provided there are no contraindications for you to diet). After that you should start fasting. Information about fasting can be found in my previous articles. Then you should also stop having sex. And finally, you should abstain emotionally.
In about two months about 75% of people have much purer energies free of energy waste and curses, younger chakras, and a clear mind. Such people are very nice and comfortable to be around so at this point they are already liked by others.
If you manage to do that, you will be able to control your life with the power of your mind. It will be enough for you to want something to get it. Besides, you will feel very close to other people – something you have never experienced before. To feel another person's energy, it will be enough for you just to think about them. Thanks to it, you will be able to control other people and make them love you and be attracted to you. Most importantly, if you want to cast a spell to reveal your true love or a spell to bring love into my life, you will succeed, too.
Remember that you should keep your heart and your emotions pure. Mean and evil thoughts will ruin all your efforts getting you to a state that is even worse than the one you were in when you started. Restoring one's energies for the second time is much harder.
A simple spell to attract love
There is one simple spell to attract love that is cast using some pure water. Take a clean glass container and put two photographs into it, your photograph and one of your loved one. The photographs should stay in the container for three days.
Take a clean paper sheet and describe (in brief or in detail) the dream you want to come true. Fold it in half and put it on top of the container as a lid. Do not touch the container or the paper for three days and do not let anyone do it.
In three days, take the photographs out. Wrap them in the paper sheet on which you wrote about your dream and put it away. Bring the container to a spring and fill it up with pure spring water. Now cover the container with a real lid. You can use this water right away as it is already charged with magic and can have a strong influence on people.
You can use this water for many different purposes:
- Wash your face with it to look more attractive to your loved one;
- Add some drops into the food or drinks of your loved one;
- Sprinkle your house with it;
- Add some drops into the bathtub (if your loved one is going to take a bath);
- Sprinkle it over your loved one.
You can perform this water ritual, just like many other rituals, as many times as you want. But I, spellcaster Maxim, still suggest that you do not overuse it. If your rituals keep failing over and over again, do not try to use other rituals or switch from white magic to black one. There are hundreds of reasons why your magic spells may keep failing and only an experienced spellcaster can tell you what is wrong with you.
If you cannot cast a spell successfully, contact me. In this case perseverance is not a good thing and may lead to energy and moral exhaustion, and no one likes people like that.
Or take a break, have some rest, and try to study magic seriously. To begin with, read my article about a voodoo spell to attract love.
Or check out my video about another amazing magic ritual you can try.