Online spells explained by spellcaster Maxim
Esoteric, astrologer, writer
I have written many articles about online spells which are available on my website. It is called Spellcaster Maxim. There you can also read, for example, an article about who can cast love spell online or how to cast a spell online, find a spell caster online, safety precautions
Even though I seem to have covered almost all the questions related to this subject, I keep getting emails from my readers with questions about online magic. This inspired me to write this article and tell you about the things you think I have not covered yet.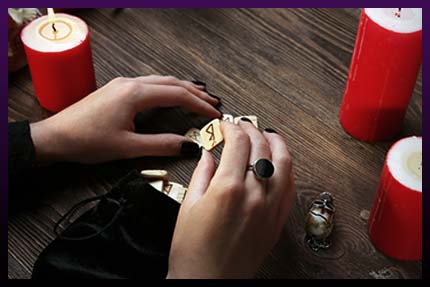 To begin with, I would like to tell you what I personally think about online spell casting. Well, I think it is a good method and I use it a lot myself. About 90% of those hundreds of spells that I cast every month are online spells. There are many reasons for it. With online magic, my clients can:
- Ask me for help regardless of their location (city, country, continent);
- Avoid waiting in lines (which are formed when the spellcaster needs to travel for work a lot);
- Benefit from more online spells because, again, I do not have to travel too much;
- Be replied shortly;
- Pay less (for they do not have to pay for my travel expenses);
- Contact me any time with any questions, offers, and suggestions;
- Inform me of the results immediately.
There are many other advantages to this method of casting spells. For example, if a client wants to come to me or me to come to him to see how the love spell is cast, I never say no. I just warn the client that this will be more expensive than if I can cast a love spell online, while the results will be almost identical. Hence the question: Should you pay more if you can get the same results for less?
In my article about real spell casters online, about the secrets to putting a love spell on someone you do not love
I wrote that it did not really matter for professional magic practitioners how to cast spells. Their experience and knowledge allow them to provide high-quality services when they meet the client in person and when they stay in touch online. Anyway, the spellcaster always needs to have a picture of the client or some personal thing to gain access to the client's energy – the key to making spells effective.
Secondly, the majority of spells are put not on clients but on the people the clients are in love with. It means the spellcaster will have to use real spells online, because he will not be able to sit in front of the target and put a spell on this person while looking them in the eye. So there is no point in coming to your spellcaster, because the spell will most likely be put remotely anyway.
I also told my readers who want to buy love spells that there is one obstacle in the way of their success. It is not knowing enough about the magic practitioner that you are going to work with, because chances are you are dealing with a con artist. If you work with me, you are safe. My name is well known worldwide and has become a synonym to high-quality magic services. However, this is becoming a problem, because once in a while I find out that some people are pretending to be me and offering their services. I do my best to make sure they disappear as fast as they appear on the market. Believe me, I have been doing it quite successfully so far.
Types of magic spells online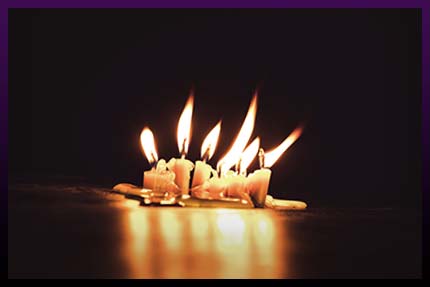 Magic practitioners, sorcerers, witches, spellcasters and shamans can provide their services online because this is just the way the magic practitioner communicates with the client. It used to be a home phone before. Before that, people stayed in touch by means of letters. And before that they sent messengers to the homes where sorcerers and witched lived. So there is nothing unusual in this way of communication. It is convenient to both, the spellcaster and the client, and is very up to date.
Since you never worry when you buy things online but still find it difficult to make yourself buy spells online I, spellcaster Maxim, will tell you more details about it to hopefully change your mind.
I have always said that fortune-telling is needed before casting any spells. Today it is also called magical diagnostics of the future. When we dream, we tend to be idealistic. When we dream of love, we dream of a passionate love affair. When we dream of having a wedding, we want it to be posh and grand and beautiful. When we dream of a family life, we want it to be free of diseases, fights and infidelity.
However, the future of most people is not as bright and happy. Most people will have to experience infidelity, indifference, and betrayal. Moreover, many people will also have to pay for their wrong choices, which consequences, in case the relationship was built with the help of some online magic spells, can be very bad. What happens when no magic is involved? You want to be with someone who is not right for you. Higher Powers know how much pain this person will cause you and keep him or her from falling in love with you. You suffer by not being loved back. However, you suffer much less than if that love had happened. This is how Higher Powers take care of you and your well-being.
Without knowing your future, you order online spells that work instantly and after a while you drink the cup of bitterness to the dregs. You cannot undo what has been done. And you will have to pay for your wrong choices in full.
So always start with fortune-telling. What kind of fortune-telling? Ask your online love spell caster. Just make sure he answers the most important of questions: Will his spells make you happy or unhappy? Unfortunately, the majority of magic practitioners prefer not to do that. They are interested in personal profit and prefer casting an online spell for love without fortune-telling simply because spells are more expensive than fortune-telling services. They are not really worried about your future. You are just a money-making machine for them.
I, spellcaster Maxim, always tell my clients' fortunes before love and break up spells, because I understand that starting something that will end up in pain is wrong. I do my best to keep my clients happy, because this is what professional magic is for.
Stage two is about fortune-telling again. You should ask your magic practitioner the following question: Should I wait? Is it the right time? Often people decide to order a love spell when they have a feeling something truly wonderful is about to happen to them ending their loneliness. Their soul is preparing for this meeting sending confusing signals. You want to love and be loved so much that you choose your partner from the people you know. Then you order one of the online spells that really work and start a relationship, while pushing away someone who could have loved you forever even without magic.
For this reason it is important to know your future. When you know it, choose what you want to get:
- Love created with magic or
- Love prepared for you by Fate.
However, fortune-telling services and the best online spells are not the only things you can benefit from remotely. You can also ask your magic practitioner to give you back someone you lost but still love. You can ask him to stop your spouse from cheating on you. You can protect your relationship from ill-wishers. You can remove jealousy and suspiciousness from your life. You can make a person want to marry you. You can ask for children from the person you love. Professional magic practitioners offer a wide range of services and you can take advantage of some if your spellcaster casts real love spells online for you.
Questions and answers about the online spell love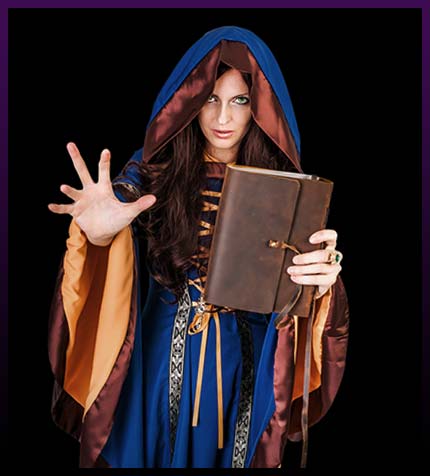 Question:
"What is the likelihood of falling for a scam if I decide to use some magic spells?"
Spellcaster Maxim's reply:
To be honest, I do not quite understand what spells you are talking about. If it is same-sex love spells, I do not understand why you are being so shy. Same-sex love is as natural as traditional love and other types of love. If you are worried you will be blackmailed after working with a magic practitioner, there are ways to prevent it. For example you can use a prepaid phone or create an email account specifically to talk to your magic practitioner.
I am not saying blackmail never happens. However, if you work with a real spellcaster, you will never be blackmailed. First of all, breaking the law of secrecy and confidentiality may lead to the spellcaster losing his magical abilities. Secondly, every magic practitioner is committed to serving and helping people and is not allowed to harm people. When they do, they are usually removed from our reality.
Question:
"Can I order a love spell under another name?"
Spellcaster Maxim's reply:
I understand you want to keep your personal information confidential, but unfortunately you cannot do that. If you want online real spells to help you, you have to tell your magic practitioner your real name and date of birth, as well as the name and date of birth of the person you want your spell to be put on. So instead of looking for ways to protect yourself and your personal information, look for a spellcaster whom you can trust.
Question:
"I learned that I got married because my sister and my mom had put a love spell on my husband. Now I can't help thinking if I could have been happier with another man, had they not interfered in my life?"
Spellcaster Maxim's reply:
To begin with, ask yourself if you are happy with the person you are with because of magic. If your answer is "Yes, I am happy", do not do anything. Just accept your fate and convince yourself it is what is best for you. If you are not happy, do not blame your mother and your sister for it. I am pretty sure they wished you the best when they used that spell. Contact a magic practitioner and ask him, "Do online love spells really work?" and if he can make you happier. Than follow the instructions provided to you. What instructions? Read my other articles available on my website.
Questions and answers about online casting spells
Question:
"I do not like online spells because I cannot control anything. Maybe I just don't know how to do it and you could tell me about it?"
Spellcaster Maxim's reply:
You cannot control not only the online casting spells process but also the spells cast by a magic practitioner you have met in person. He will talk to you and accept your request for magical services. The rest will happen without you. No one else will be present when the ritual is performed. So you cannot control anything. All you can do is wait for the results. If you are satisfied with it, the magiс practitioner has done a good job. If you are not, he has not.
There are no methods to control the process of spell casting. You may not hire a fortune-teller to watch the magic practitioner with her tarot spreads or, for example, candle fortune-telling. You may not hire an energy expert to examine your energies on a regular basis to keep you informed on all changes. Any kind of interference will distract the magic practitioner preventing him from doing a good job.
The key for you is to have trust. If you do not trust your magic practitioner, do not ask him to do a love spell online at all.
Question:
"Can you recommend some training courses for online love spell casting?"
Spellcaster Maxim's reply:
Do not expect me to give such advice. If you want to study magic, do it on your own or under the supervision of a powerful magic practitioner. If you study it yourself, you will develop in accordance with your karma, fate and under the supervision of the forces guarding you. In the second case, the magic practitioner will be watching you and keep you out of trouble. If you do some online courses, you will undergo transformation having no control over it. People familiar with magic know it is major and unpredictable. As a result, many people who studied magic remotely ended up needing professional help.
Question:
"Yet you offer your readers to download your book about magic. How is it different from online courses?"
Spellcaster Maxim's reply:
Yes, downloading my book about magic which is available on my website is exactly what I offer my readers. And I am intending to keep doing so. This book is about manageable self-perfection. Moreover, there is nothing in it that can be dangerous to readers.
Question:
"Could you tell us about some new but proven love spell?"
Spellcaster Maxim's reply:
Yes, I can teach you a new love spell. To find out more, watch the video below.